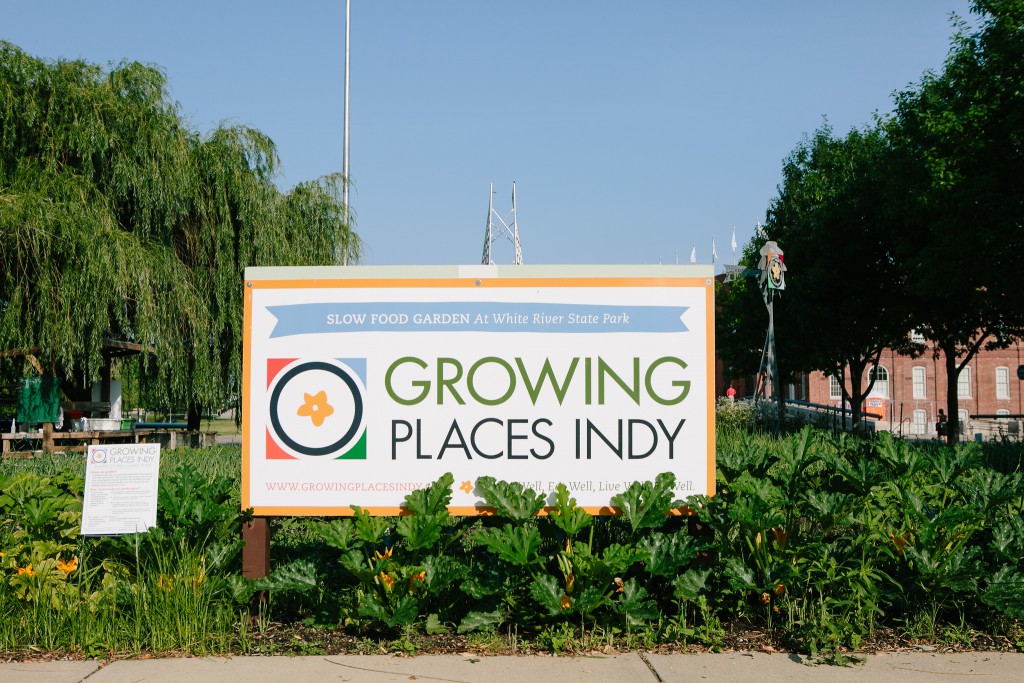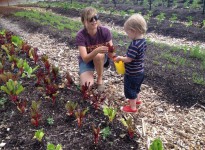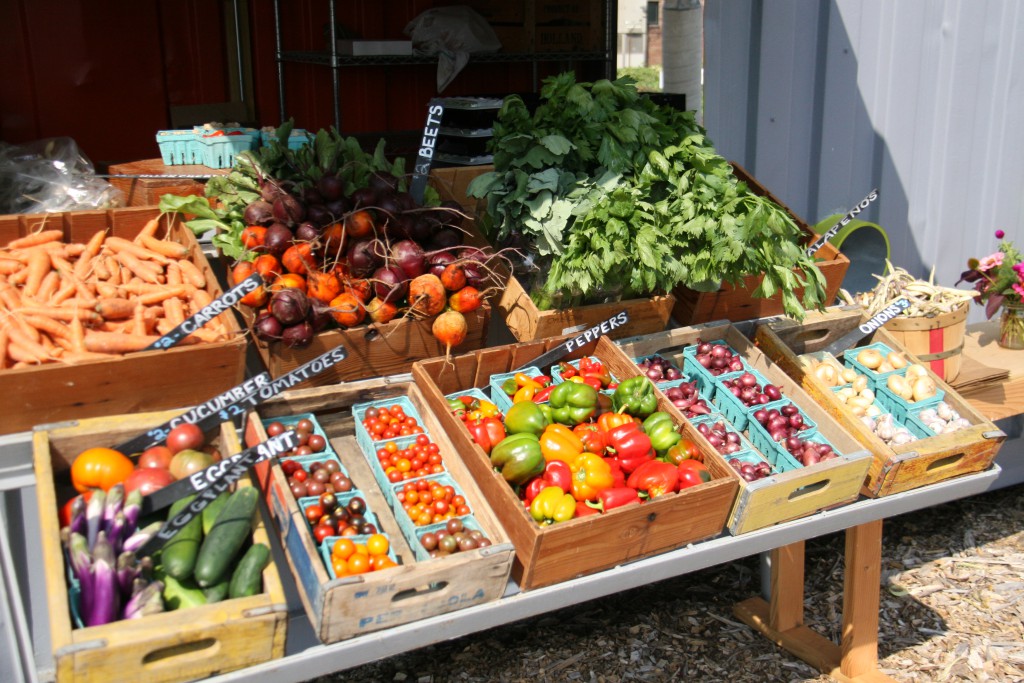 Growing Places Indy
We are a 501c3 non-profit organization. Our mission is to empower people to cultivate personal, family and community wellness through urban agriculture, access to fresh local food, and mind-body education.
Grow Well, Eat Well, Live Well, Be Well. It's our mantra, it's who we are, it's why we exist, and it guides our mission to cultivate personal, family, and community wellness through urban agriculture, food access and mind-body education. It is also the progression of how this organization has grown, and the four pillars of our educational experiences.
Starting with a single garden in White River State Park in the summer of 2010, GPI now manages four urban farm sites totaling 1.5 acres, and has helped numerous other gardens and urban farms take root in Indianapolis. Since 2010, we have grown our farm production and sales from serving a handful of restaurants, to serving more than 40 Indianapolis restaurants and grocers and an annual Vegetable Subscription Program (CSA) for 20-30 households.
In 2012, GPI began offering a farm stand at the Boner Fitness and Learning Center and incorporated the Indy Winter Farmers Market (IWFM), making fresh, local foods available year round. Two years later we built out Indy's first urban U-Pick veggies site, which is open with the Summer Farm Stand. GPI also offers two SNAP matching programs at the IWFM to ensure the quality foods offered are accessible regardless of income level.
We have incorporated yoga practices and philosophy into our educational offerings since 2011, and in 2013 we began offering regular by-donation yoga and meditation classes in the community. In the same year, we piloted our first Live Well classes, incorporating gardening, cooking and nutrition, and mind-body education.
Each year, we witness with delight as our daily work, integrating the cultivation of gardens and local food systems with the cultivation of human well-being, comes together in the form of people who feel empowered to Be Well. We witness with awe how seeds planted in gardens, hearts and minds, change lives, families and communities. We witness our mantra – Grow Well, Eat Well, Live Well, Be Well – come full circle and cycle forward again and again.
For ten years, Linda served as the Advancement and International Program Director at a high school in Indy and is passionate about working to make the connection of eating well in order to grow well in the lives of young people. She is a member of The Clapham Group, a nonprofit collaborative consulting group and serves on the board of directors for Fireside International, a nonprofit media company focusing on the empowering individuals to understand the importance of their story. Linda attended Indiana Business College, earning an Associates Degree in Business Administration and ran her own business for nearly sixteen years before entering the world of education and philanthropy. She has earned a Certificate in Fund Raising Management from the Lily Family School of Philanthropy – IUPUI. Linda has three children, one grandchild and many sons and daughters from all over the world that have lived in her home and become a part of her family. She is an aspiring gardener and has dreams of one day speaking Spanish, playing guitar and building her own furniture.
Kat oversees communications, marketing and educational programing, including components of our Summer Apprenticeship Program and Eat Well Classes, as well as being the voice of Growing Places Indy on Facebook, Twitter and Instagram. She is an Indianapolis native from a restaurant family, and attended Indiana University Bloomington, earning a Bachelor's degree in Communication and Culture. Kat worked in high-end restaurants before moving to Portland, Oregon for six years. There, she worked in nonprofit programing and development for Project Bloom, a women's transitional housing program with an organic food and flower garden, followed by St. Mary's Academy, an all-girls High School focused on empowering young women to be leaders. Throughout her life, Kat has first and foremost focused on personal and spiritual growth, which eventually led to a training to become a yoga teacher. Kat returned to Indianapolis to be part of the team at Growing Places Indy, because she believes in the power of produce with a purpose.
Raised in Central Indiana with an appreciation for the natural world, Hannah enjoys hiking, catching snakes and climbing trees. She attended Indiana University where she studied Biology and French, but left longing for something that was more meaningful and aligned with her values. When Hannah found her first farm in 2012, she was hooked. Growing Places Indy is the seventh farm she's had the pleasure of working with. Hannah loves to continually learn about sustainable agriculture.
Phil is a transplant to Indiana from the east coast, and more recently, Chicago. His time gardening on city balconies gave him an appreciation for larger expanses of growing space but also taught him how to be meticulous and frugal with planning. He loves neat, tight rows of veggies and herbs, and he checks on seedlings a little too quickly after planting to see if they've germinated yet. Growing Places Indy is his first farm since leaving the world of corporate data analytics and he hopes to bring some information automation and efficiency to growing.
If you are interested in partnering with Growing Places Indy, please contact Director of Development and Operations, Linda Cook at linda@growingplacesindy.org.